It is easy to get lost in the world of private aviation when you don't know where to start. There are many types of jets for private fliers but how do you pick the right one?
Well, our recommendation would be to sort things out little by little. Firstly, think about your travel goal and destination. When you know why and where you are wanting to travel to, start looking at your budget. Light jets are way less expensive than heavy jets, but they might not suit your needs or desired trip itinerary. So, you should also know the exact number of people travelling and the amount of luggage that you will need. When you have your desired trip details written out in front of you, it is time to pick the aircraft type! Try looking for a balance between price and comfort.
Planning a business trip to Vienna or a vacation to Rome and you don't know what type of private jet to choose? No worries, we are here to guide you through the different types of private jets.
Piston
As hatchbacks and sedans are one of the smallest car models, piston-powered aeroplanes also seem to be "hatchbacks and sedans" regarding aircraft size overall. These planes are powered by one or more piston-based engines that provide the thrust needed to make flight possible.
Piston-powered aircraft include seats anywhere from 1 to 6 passengers and don't offer much space inside. Furthermore, such planes are used for flying shorter distances (~300-400 miles) and they usually cannot exceed the altitude of 15,000 feet.
Lightweight, piston-engine aircraft do not need long runways and these planes usually fly to small general aviation airports. The lack of space and strict take-off/landing weight requirements do not allow carrying a lot of passengers and heavy luggage.
Trip: short business travel (e.g., from one city to another when you need to get there faster than travelling by car), free-time flight for catching beautiful views.
Example: Diamond DA40/60 (featured), Cirrus SR20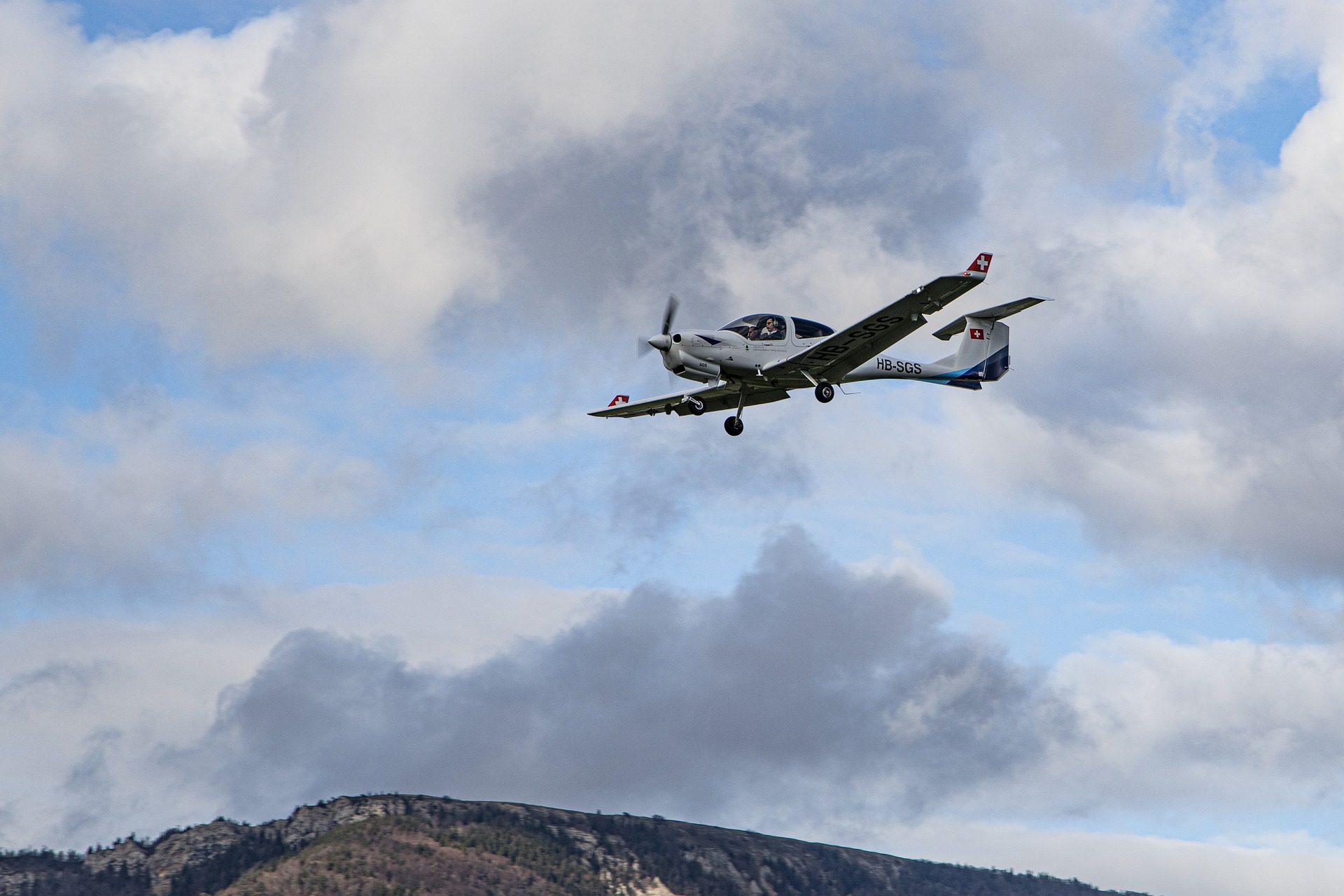 Turbo prop
Different from piston-engine aircraft, turboprop planes have one or more gas-turbine engines that drive the propeller(s). The engines are connected to a gearbox and create power that is needed to move the aircraft forward in the air and on the ground.
A little bit bigger than piston-powered planes, turboprop aircraft carry seats for 6-8 passengers and can fly at higher altitudes, up to 35,000 feet. Turboprops can also fly approximately 2-3 times longer distances (~600-1000 miles).
These planes are smaller and lighter than many private jets. Regarding this fact, turboprops can use shorter runways as, the smaller the weight, the shorter the speed-up/stopping time. Even though this type of aircraft is a little bit longer and wider than piston-engine planes, it still doesn't offer a lot of extra space for luggage.
Trip: meetings, a business conference in another country somewhere near to the home country, weekend trips.
Example: Pilatus PC12 (featured), Piper M600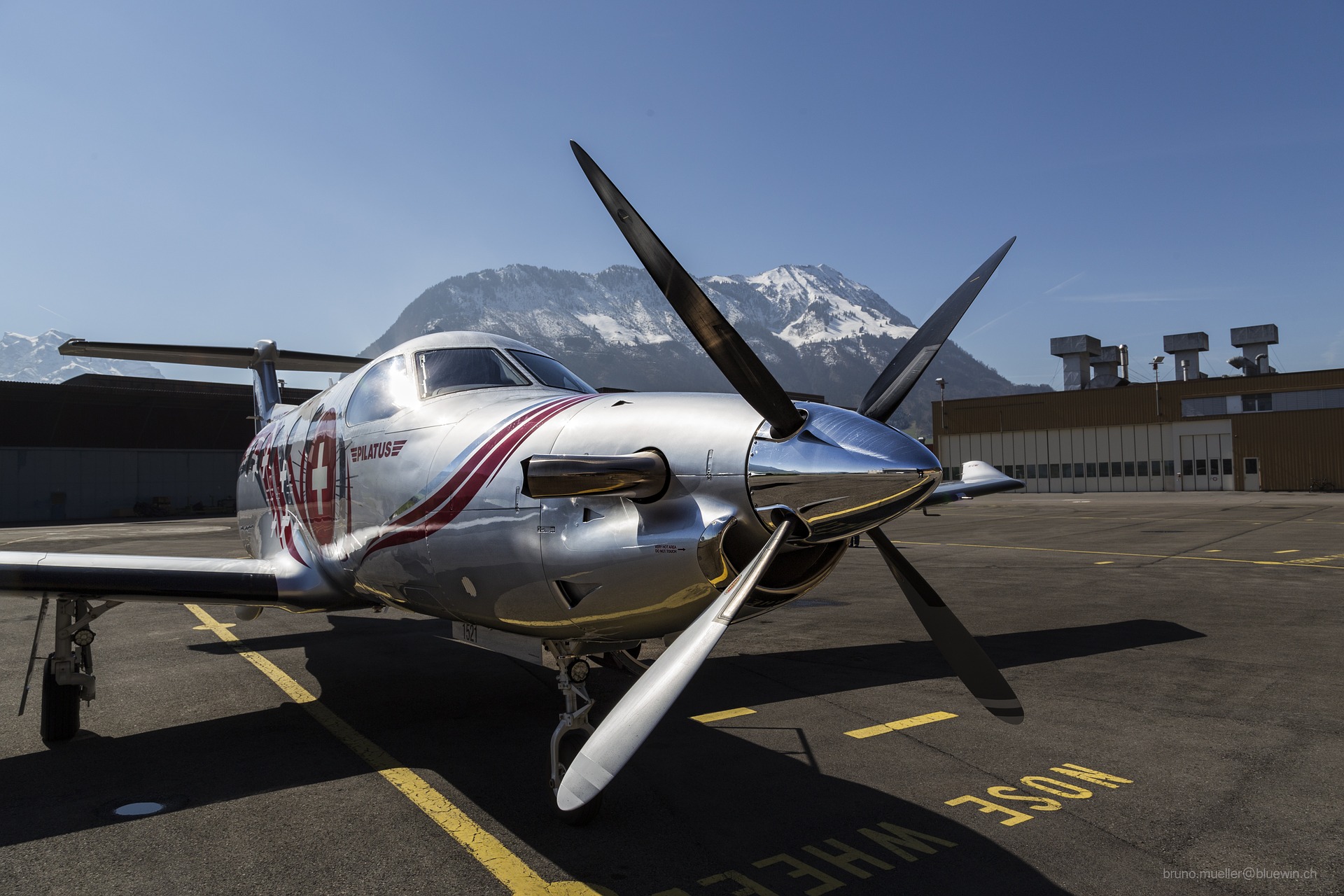 Light jet
Extremely popular in the world of private aviation, light jets are divided into three following groups:
Very light jets: These planes belong to the smallest aircraft category and are cheaper than other jets. You can usually fit around 4-7 passengers with a reasonable amount of luggage into a very light jet.
Furthermore, such aircraft are capable of landing on shorter runways which means that there is a very wide range of airports to choose from. The clients can pick from a bigger variety of arrival points.
Light jets: Although like the previous category, small light jets are a little more beneficial due to the bigger passenger capacity (up to 8 people). Also, they can fly longer distances and are sometimes used for intracontinental routes.
The same as very light jets, the aircraft can fly to small airports. Highly liked by small business groups, this type of aircraft is the best for flights up to 3 hours.
Super light jets: Bigger and comfier than the previous variants, super light jets also play a popular role in the world of business. These planes include more space for 8 passengers and hold a bigger luggage capacity.
When very light and small light jets can be too narrow for some people, the third option offers a higher comfort level regarding the passenger cabin area. Despite their bigger size, super light jets can still successfully land at smaller airports.
Trip: best for countrywide (very light jets) or intercontinental (small light jets/super light jets) business travels that require a shorter stay.
Example: Cessna Citation Mustang, CJ2-CJ4, Embraer Phenom 100/300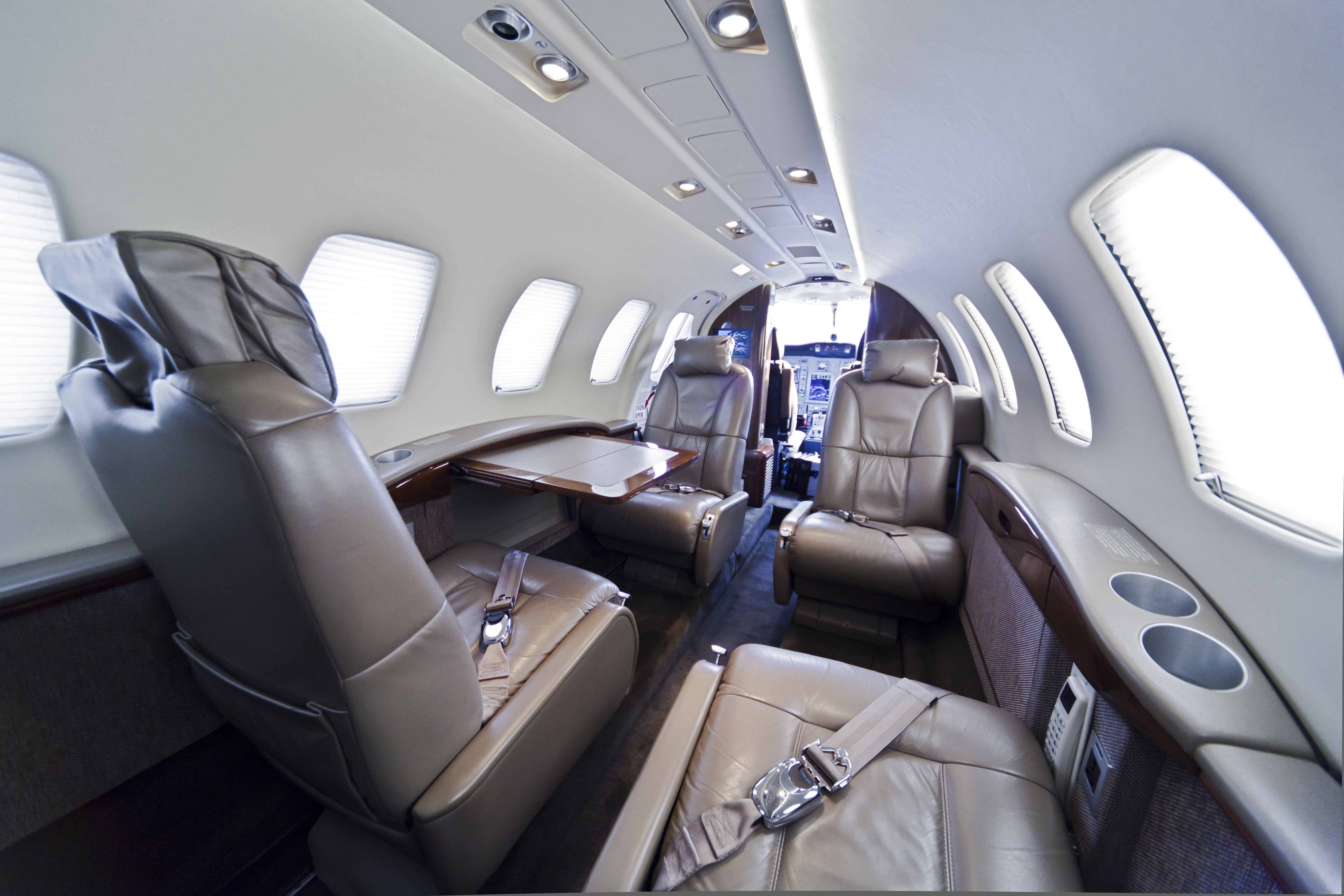 Midsize jet
Coming up next - the medium-sized private aircraft. These jets also include more than one category. Check out both below:

Midsize jets: Including a longer and wider passenger cabin than light jets, the midsize ones are way more comforting and suitable for further distances. The cabin will be high enough while standing up and will also have enough space to fit a medium roller bag.

Technology lovers will also find these jets beneficial as they tend to include WiFi and allow people to connect to the Internet. This is a good way of productively spending your flight hours.

Super-midsize jets: Enjoy an even larger and more comforting version of a midsize jet. Such aircraft offer first-class seats that leave enough room for the passengers. You can also easily stand up and walk on these types of planes.

Continuously, super-midsize jets fly faster and longer distances. Another benefit of such an aircraft is that it is quieter than all the previously mentioned jet types.
Trip: a longer business journey for bigger groups of people, a short vacation to another country, group travel to a concert/performance.
Example: Hawker 800XP, Cessna Citation XLS+, Citation X (featured)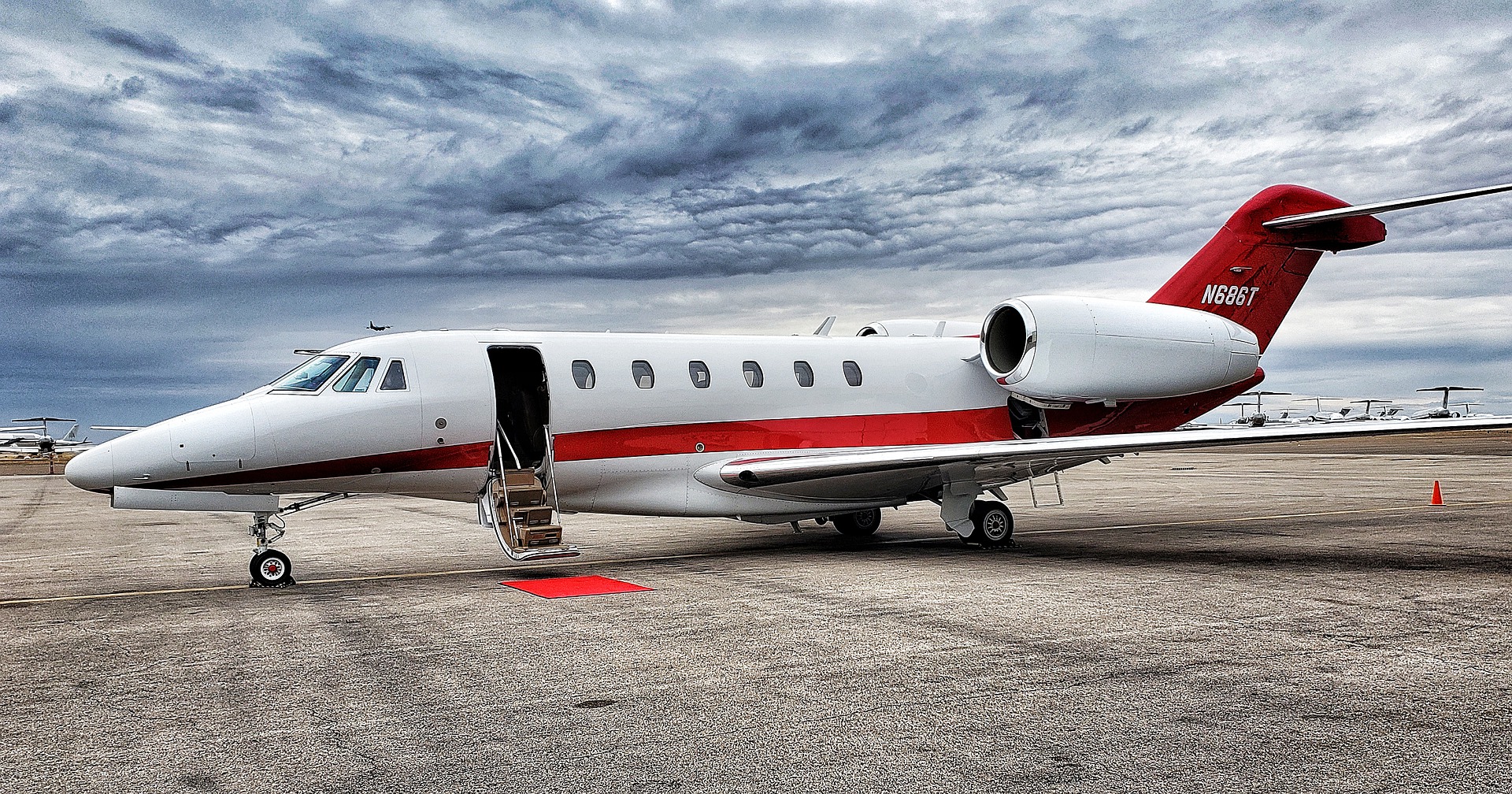 Heavy size jet
Let's continue with the tip of the crown in the private aircraft world. The heavy size jet category also includes a couple of variants:
Heavy jets. These types of aeroplanes are built for great passenger comfort. If you board such a jet, you will find out that there is plenty of space for seating, moving, and your luggage. Heavy jets even have bathrooms, sleeping rooms, and entertainment areas.
Suitable for long travels, this type of aircraft can typically hold up to 10-12 passengers that is beneficial for larger groups of people. There also are other amenities such as pull-out tabletops, generous leg space, Wi-Fi, and useful phone technologies.
Ultra-long-range heavy jets. Want something even bigger and more elegant than the previously mentioned aircraft? You should go for an ultra-long-range heavy jet! Here you will find various areas included, e.g., for working, eating, sleeping, spending your free time.
More about the generous space that is offered by these jets, they can fit up to 14 passengers and many big roller bags. You can bring your musical, skiing, or golfing equipment. On an ultra-long-range heavy jet, you will find enough space for almost everything!
Trip: perfect for long-distance business trips or vacations, especially skiing resorts, throwing celebrations.
Also, popular between sports teams and performers due to the big passenger and luggage capacities.
Example: Dassault Falcon 7X, 8X, Challenger 850 (featured), Gulfstream G500, G550/650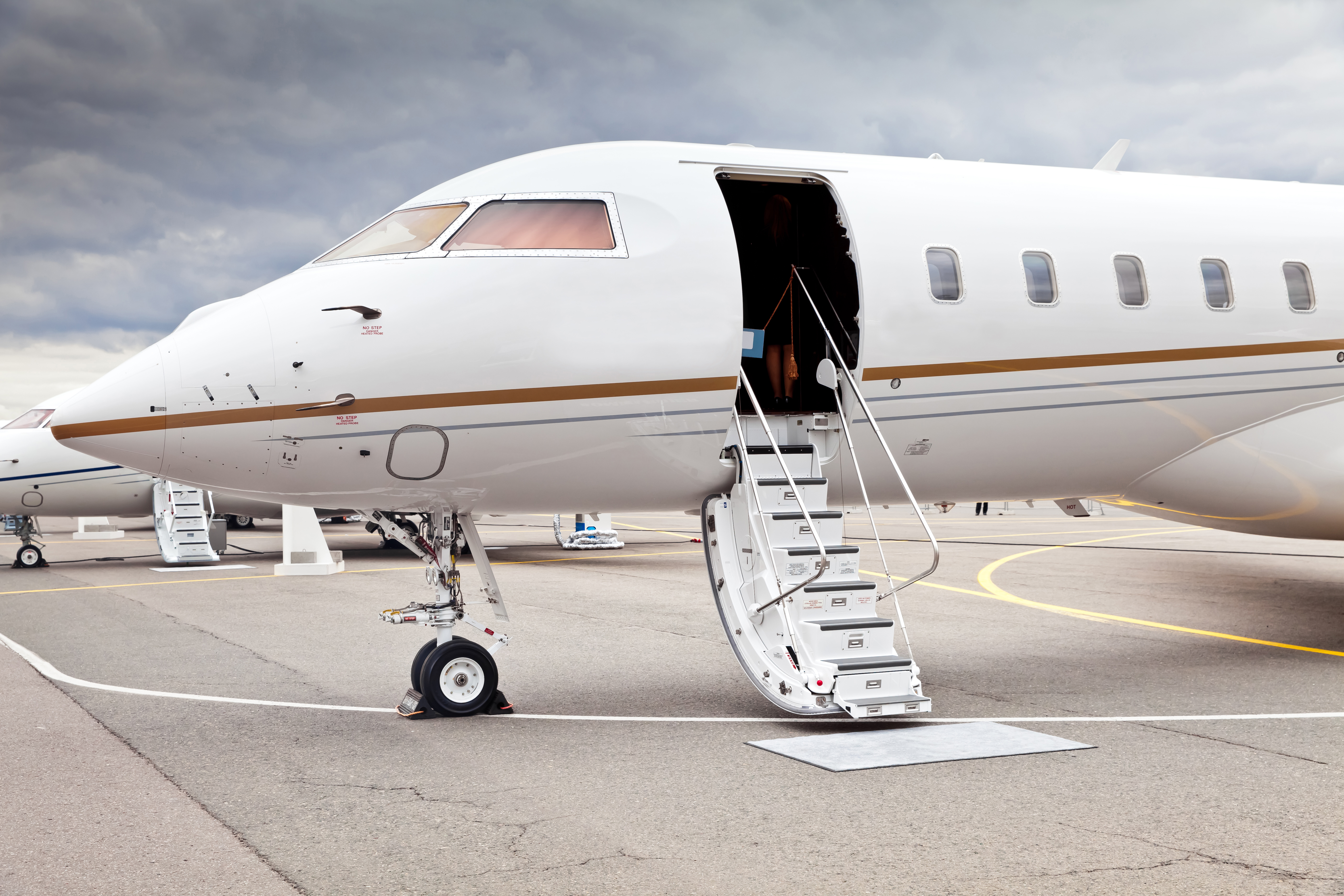 VIP Airliner
A great option for international travellers that are seeking maximum comfort and are expecting to be surrounded by luxury. Airliners are commercial planes that are designed for private travels and holding a big passenger and luggage capacity. Due to all the amenities in airliners, they are the most expensive ones from the private jet category. VIP airliners can usually accommodate up to 40 passengers in comfort.
Some VIP airliners have their own private suite, a shower, dining room, conference areas and an elegant bedroom.
Other airliners have around 60 seats and offer generous space for those passengers, as regular airliners are usually accommodating 180 passengers. Ideal for group flights such as sports charters, conference groups et cetera.
Continuously, airliners are created for very long flights and have extremely advanced equipment to conquer challenging airports and weather conditions.
Trip: international trips (business/vacation) from one continent to another for those who are looking forward to maximum comfort and luxury in private travel or a private group aircraft.
Example: Boeing Business Jet (BBJ), Embraer Lineage 1000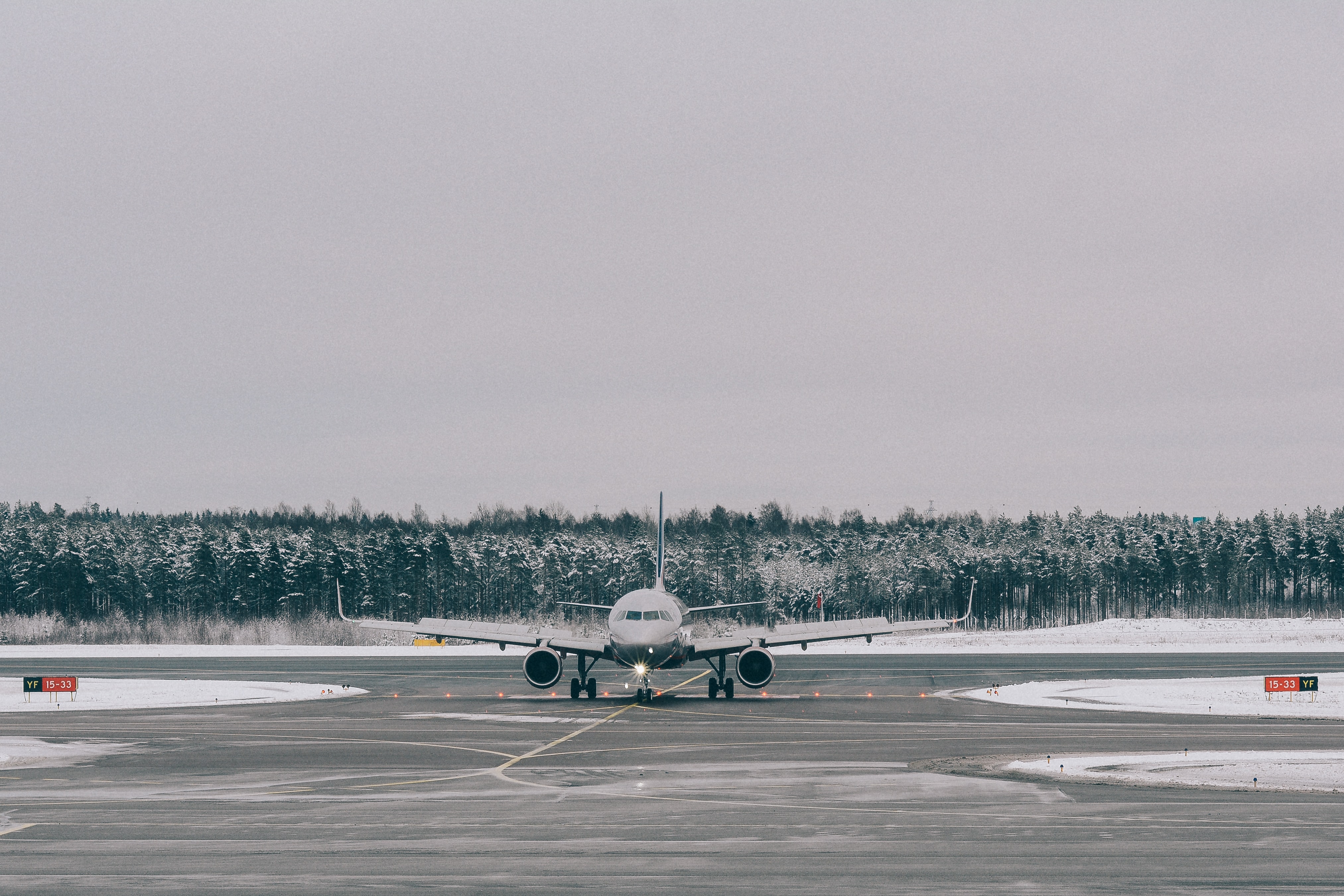 I can't choose...
No worries. Your Flight Manager will always advise present the best suitable aircraft based on the given trip requirements. Do you want another aircraft category other than the one presented? Give us a heads-up!