The shared flight model offers more people access to the benefits of private aviation for accessible rates and on carbon-neutral flights
News
Eindhoven, 9 June 2021 -Dutch-based aircraft charter broker Hyer has launched its jet sharing concept in London and Amsterdam. After using a similar formula to support the repatriation of stranded passengers last year, the company is bringing the same model to the leisure market.
The concept works like an extra-comfortable UberPool with wings. Passengers can initiate their own flight or join flights proposed by others. This allows them to fly on private aircraft for a fraction of the cost while offsetting the carbon emission of their flights. From London, routes are available to some of Britain's favourite holiday destinations such as Ibiza, Cannes, Malaga, Amalfi Coast and Amsterdam. From Amsterdam, it is also possible to find flights proposed by other passengers to Nice and Ibiza.
Less restrictions
With countries in Europe easing travel restrictions, businesses and holidaymakers have begun thinking about travelling safely in the "new normal". Airlines and airports have announced additional safety measures aiming to control and prevent the risk of spreading the virus. However, these measures demand more time from travellers and add extra stress when flying. Waiting times in April at Heathrow airport were "well in excess of two hours and up to six hours", according to Heathrow's Chief Solutions Officer, Chris Garton during a recent report to the UK Members of Parliament on the transport committee.
A data modelling issued by the International Air Transport Association (IATA) suggests that the time passengers spent in the airport could reach 5.5 hours per trip if the travel demand reaches 75% of pre-Covid levels.
Air travel demand and additional time spent at the airport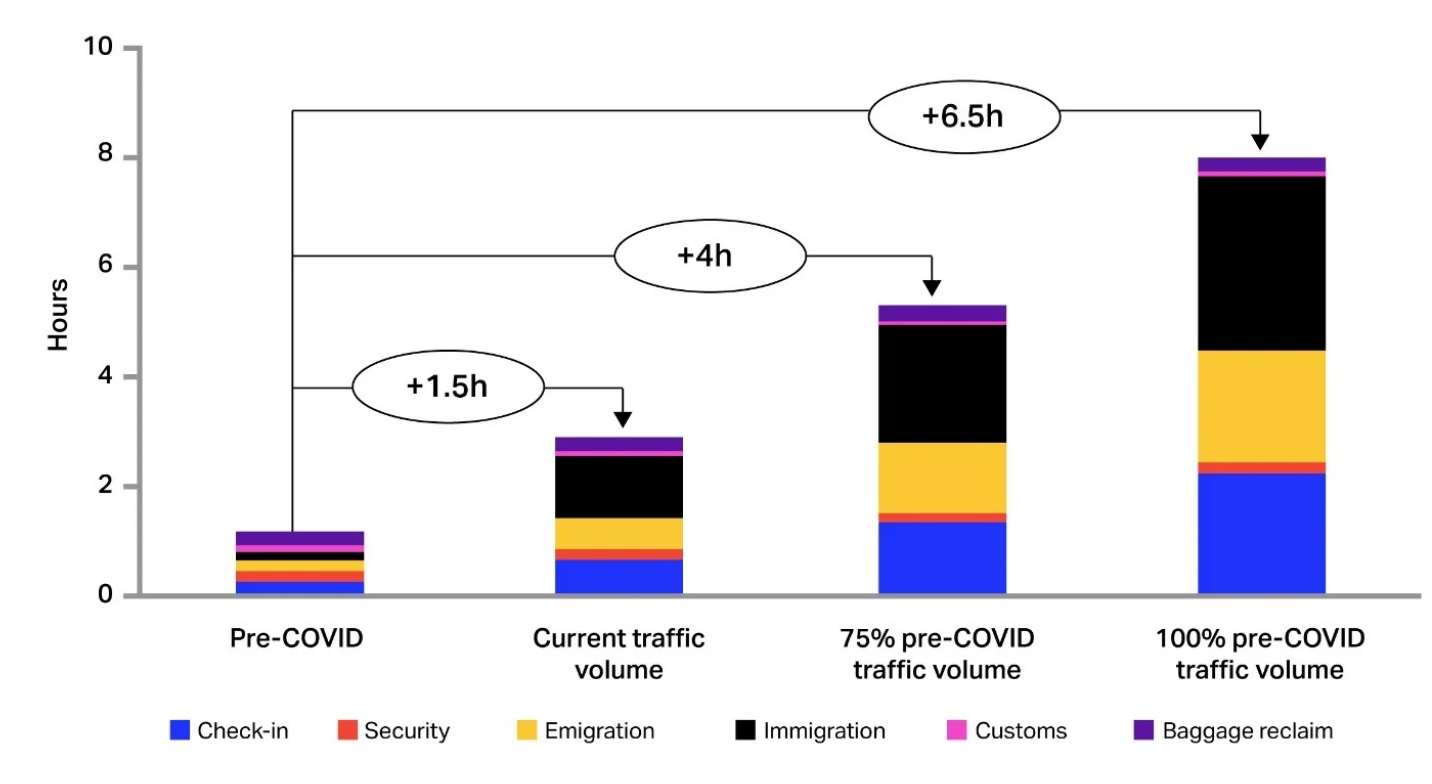 Graph source: IATA - Press Release No: 34 – 24.05.2021
Private aviation is no longer seen as just a luxury. Chartering an aircraft is the best solution to save time and reduce contact points when flying, but it does not fit many travellers' budgets.
To solve this issue, Hyer is launching its jet sharing model to attend to the demands of travellers who want the benefits and safety of private aviation but lack the budget to charter an entire plane.
"Last year, the only way some stranded passengers could fly back home was by chartering an aircraft, and that is not something affordable for everyone. So, we quickly started offering our shared flight concept for repatriation reasons, and that worked quite well", explains Helder Reis, Co-Founder and Director of Customer Experience. "When you share the cost of flying private among six or eight passengers, it becomes more appealing and fits in the budget of more people. Our shared flight price starts from £890 per seat ".
Privacy, comfort and time saving
The service merges the advantages of flying private, such as avoiding busy airport terminals, long immigration and security lines, and packed aircraft cabins with the cost-benefit of sharing the price of the flight with other like-minded travellers. There is a maximum of seven passengers on each flight, and passengers can arrive at the airport only 15 minutes before departure. This way, Hyer can ensure comfort and privacy.
Flights depart from London Biggin Hill, London Farnborough and Amsterdam Schiphol airports on multiple dates, according to demand. It is possible to book Hyer-scheduled flights and to join flights launched by other passengers willing to share an aircraft and reduce total costs. Clients just need to pay the full ticket price once the flight has been confirmed. All reservations take place online — the process is as easy as buying an airline ticket.
"On our shared flights, passengers find leather seats, window and aisle access, premium catering, and a schedule that allows them to spend more time at their destination and not at the airport", explains Max van Doorne, Co-Founder and Director of Business Development. "We are also aware of the impact on the environment caused by the aviation industry. We have explored all our options. Private electric planes on a larger scale are unfortunately quite far off, and there are not many other options to travel to an island such as Ibiza. Therefore, we offset 100% of the emission of our shared flights with carbon credits supporting offset projects in Europe and developing nations".
The first flights from Amsterdam and London are available for booking with new flights being updates every week.
Commercial Flight (Business Class) versus Semi-Private Shared Flight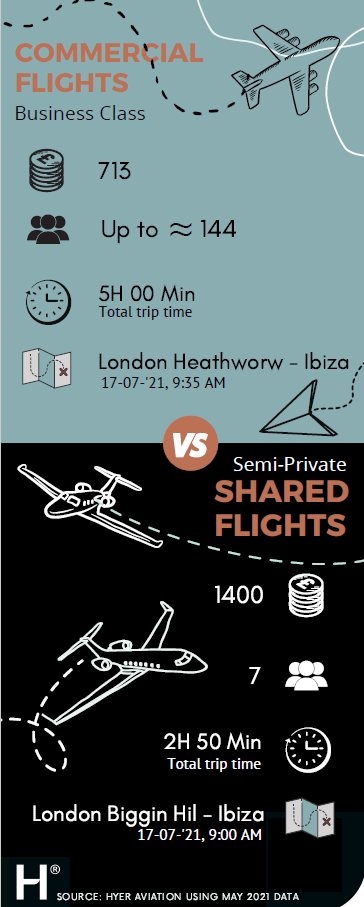 About Hyer
Hyer® Aviation is an asset-light and technology-powered private aviation company, offering a more efficient, flexible and competitive alternative to commercial aviation. Hyer brings back a personalised approach to an industry where passengers have become numbers.
Enjoy flexibility flying private for a fraction of the price by joining a carbon-neutral shared flight. Create and control personalised experiences when chartering your aircraft. Hyer's fast-growing community and innovative platform offer more travellers the benefits of private aviation. At the same time, our selected operators optimise their fleet to maximise aircraft utilisation.
Aircraft images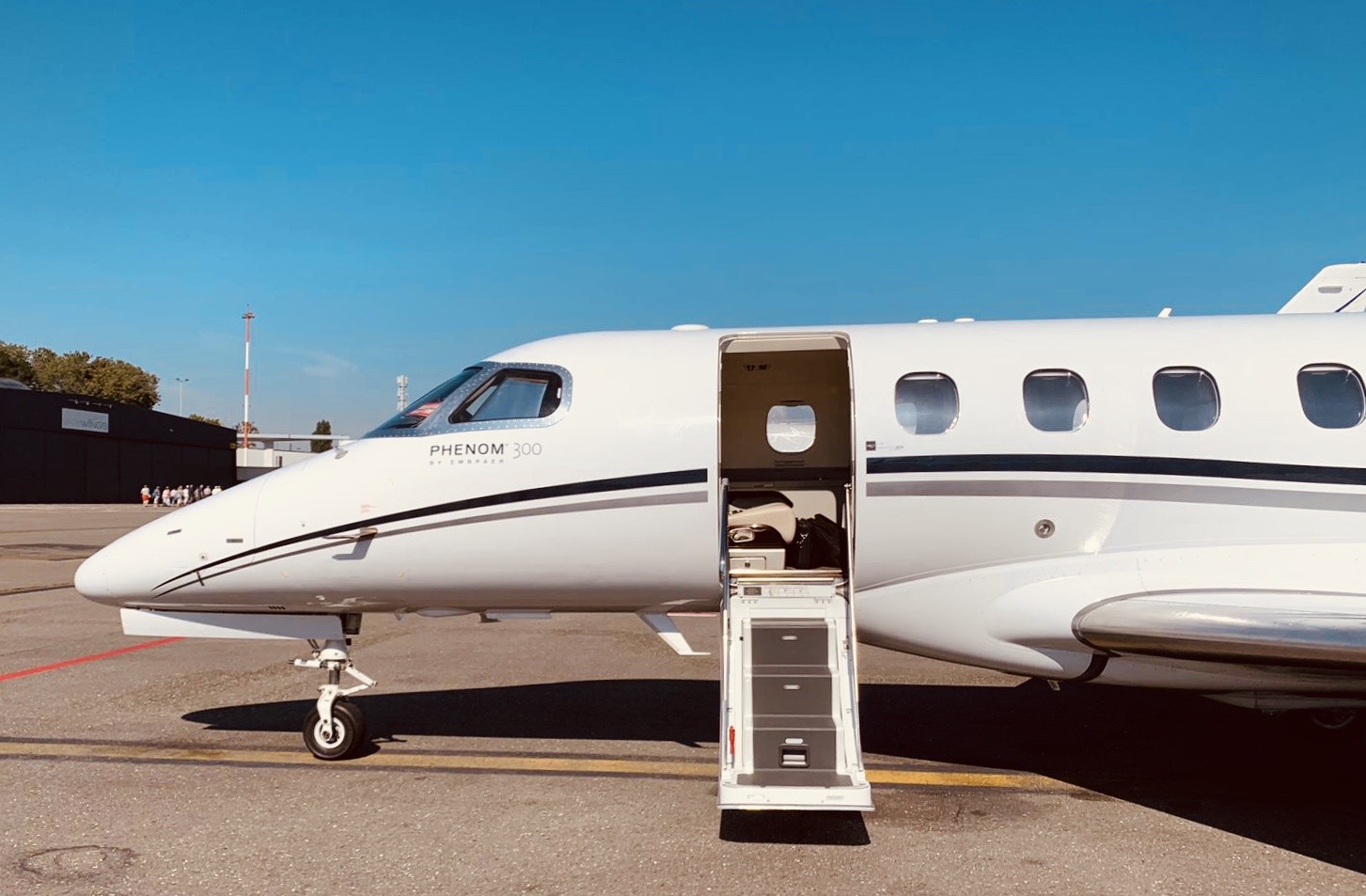 Aircraft Phenom 300 - Source: Hyer Aviation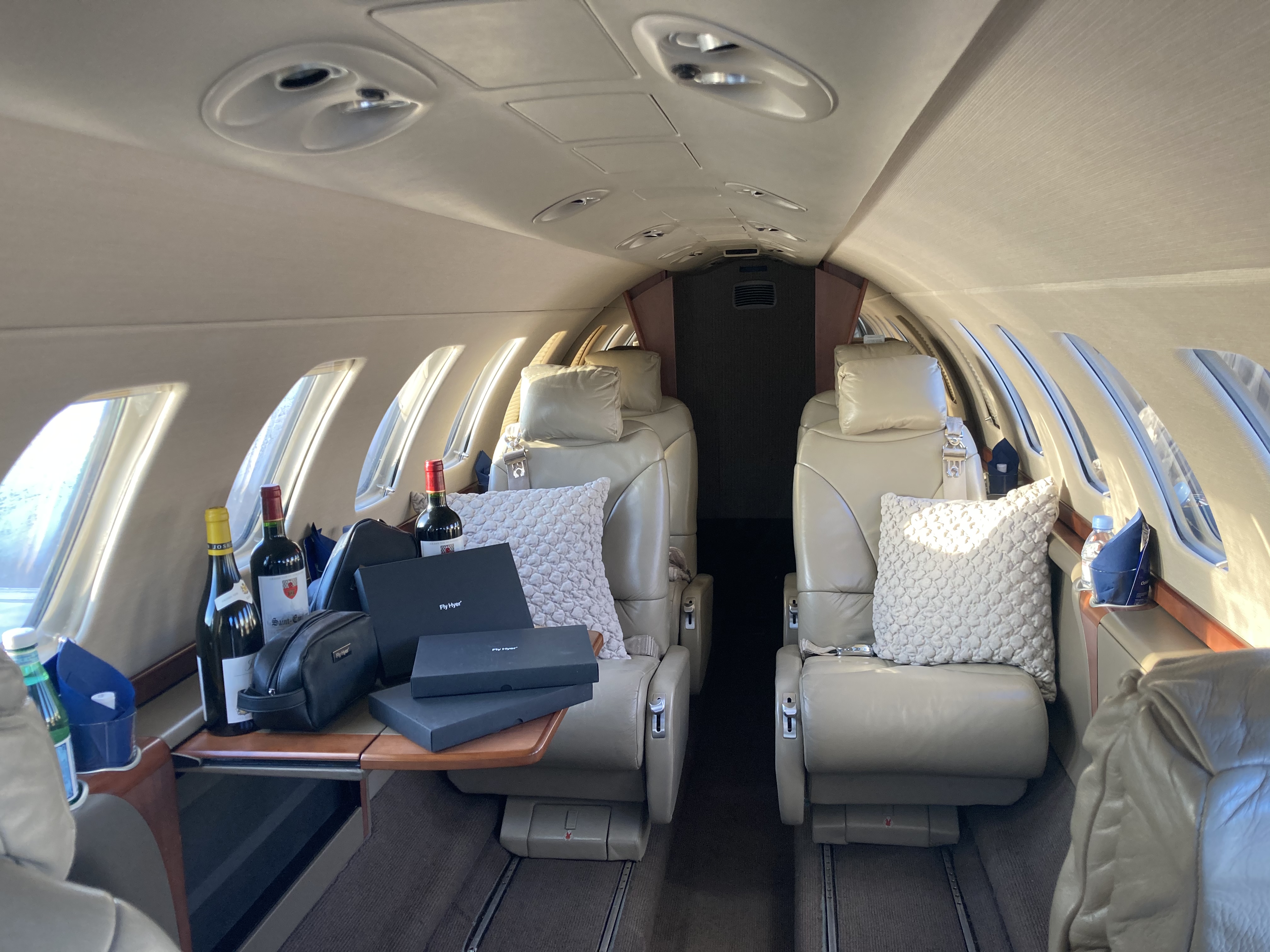 Aircraft

Cessna CJ3 Cabin Interior - Source: Hyer Aviation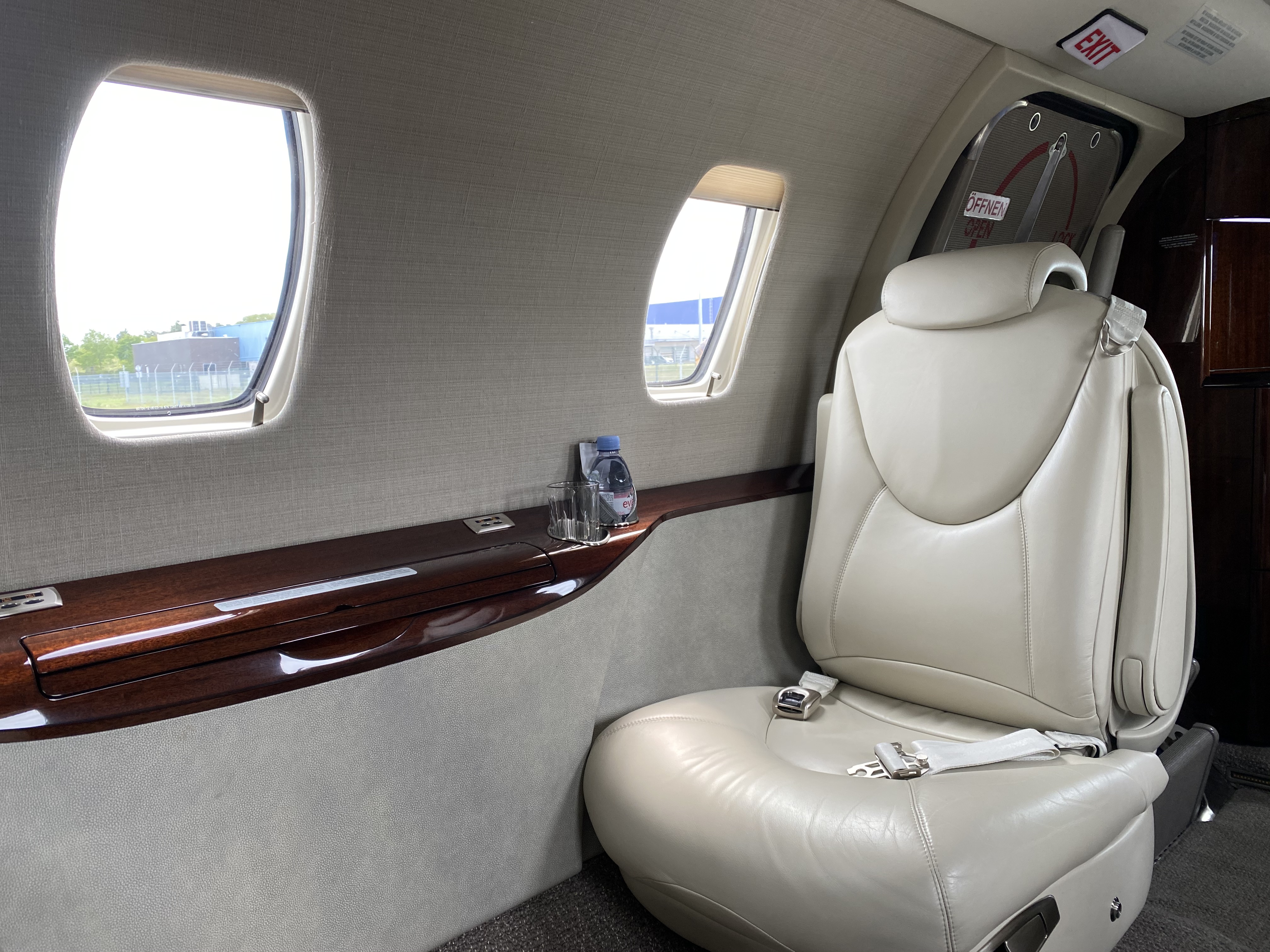 Aircraft

Citation XLS+ Interior - Source: Hyer Aviation